Natural, fair density result from a female hair transplant case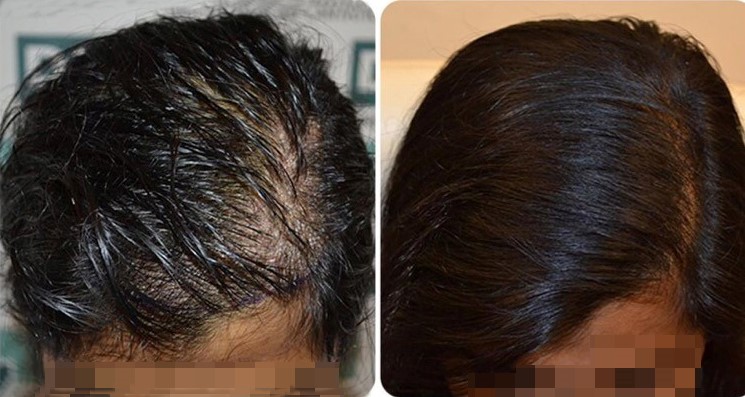 On Procedure Day                                                 1 Year After DHI procedure
Natural, fair density result from a female hair transplant case – DHI
A 27-year-old female marketing professional had started losing hair since an early age of 20. The young lady wanted to pursue a career in fitness but was wary since her sweaty scalp exposed the bald area even more. Posing for pictures was not a pleasant experience any longer. She consulted many homeopathic doctors, tried many over-the-counter medications, shampoos, oils etc – the list is long – but nothing stopped her continuous hair loss.
On June 10, 2017, she visited DHI Clinic in Bangalore where she was diagnosed with Ludwig Grade 2 alopecia. Using advanced UDSA (Unique Diagnosis System for Alopecia) technique, excessive telogenic hair was identified over her entire scalp. She was also advised a few tests, which confirmed Thyroid and PCOD disorders.
Given complexity of the case, a range of corrective measures were carefully deployed. The DHI Master Surgeon planned a multidisciplinary approach in which a medication plan was prescribed to control the underlying conditions of Thyroid and PCOD. Simultaneously, a Laser treatment plan spread was advised over 6-8 months to improve the overall health of her existing hair before scheduling a DHI procedure.
On February 19, 2018 a DHI hair transplant procedure was performed for her. Being a female patient, a shaven or trimmed procedure was out of question. Therefore, a zone shave procedure was planned in which an area beneath the thick hair was trimmed in the donor area. Special care was taken to ensure the best post-procedure look. The procedure was performed in which extraction of 990 grafts, translating to 2,000 hairs, was done in about 1 hour 45 minutes.
The implantation process, which took 1 hour, was even more intricate, as the DHI Master Surgeon had to increase overall density of the recipient area while taking care of existing hair. If not done meticulously, patient was at a high risk of losing more hair than what she would have got from the hair transplant due to shock loss! Implantation went flawlessly and artistically done as per plan in which total density of recipient area was increased by 60 hairs per centimeter square.
The patient result in just one year speaks volume about the quality of work done by the DHI Master Surgeon. The patient has left her job to finally pursue her ambition as a full-time personal fitness trainer. She cannot stop talking about all hairstyles she is now trying that she was unable to earlier! She is ecstatic, no more camera shy and has completely restored her confidence both personally and professionally.