Hair Transplant Results of a Celebrity Hair Stylist
A celebrity hair stylist recently visited DHI international clinic in June 2018, suffering from Grade 4 Androgenetic Alopecia, and he was enrolled for a DHI Giga session.
He revealed that he had tried many treatments, home remedies, and ayurvedic/ homeopathic therapies but did not see any improvement. He had come to DHI International clinic after a lot of research.
Before procedure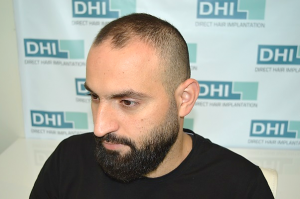 The DHI Master Surgeon created a natural hairline was created based on his facial symmetry, ethnicity, a grade of baldness and age. The hair transplant procedure was carefully planned after which extraction of 4,200 hairs was completed in just over 2 hours. After a short break, implantation was done using the patented DHI Implanter in about 1.45 hours, in which density of 90-95 hairs per centimetre square was achieved to match the existing density of hair.
8 Month Result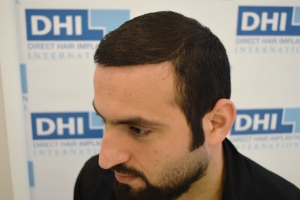 In just 8 months, highly satisfactory result can be seen and the patient is delighted with it. Implanted hairs continue to grow for up to 18 months and therefore a much better result will be visible in the next few months.