Celebrity Hair Transplant In The World
Hair transplant treatment has gained immense popularity in the past few decades. Many people, including celebrities, have taken hair transplants to combat balding.
In this post, we will talk about the 11 celebrities who have undergone hair transplants in the world.
Let's get started…
Phil Tufnell
The former England bowler Phil Tufnell recently disclosed that he underwent a hair transplant treatment at DHI International. He underwent hair transplant treatment to improve his appearance for the Ashes series.
The 56 years old cricketer had a balding problem at the back and sides of his scalp. He had the cutting-edge Direct Hair Implantation (DHI) treatment performed on him. He had one thousand hairs implanted into the balding parts of his head. DHI is one of the best hair transplant therapies as it is a minimally invasive procedure that does not involve surgery, and it takes just a few hours to complete the procedure. Tufnell got his hair transplant performed at the DHI Global Clinic in central London, which is located near Harley Street.
Before/ After Result Image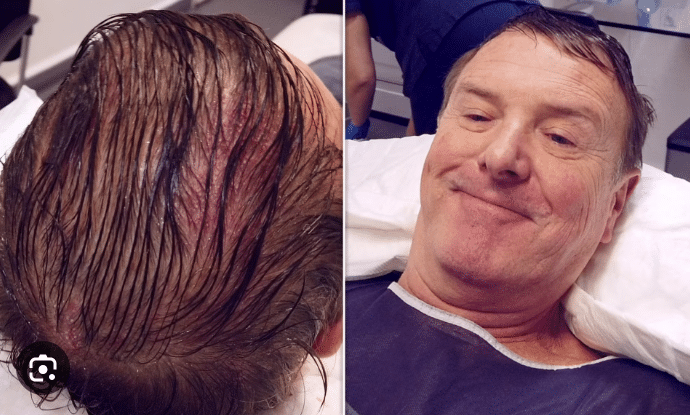 Source: https://www.dailymail.co.uk/health/article-11618441/Phil-Tuftnell-Cricket-legend-Tuffers-gets-hair-transplant-turf-thinning-wicket.html
Tufnell was planning to get hair transplant treatment for a long time. However, when he came across the DHI treatment at DHI International, he decided to get it done.
After the procedure, Tufnell said, "I have been suffering from hair loss for a few years at the back and sides of my scalp, and I wanted to do something about it. What I particularly like about this treatment is that you don't have to have the back of your head shaved. They pick the donor hairs out and then patch it back up where you have the bald spots with very little fuss. There is very little disturbance to the scalp, and the final results are completely natural."
Steve Giatzoglou
Basketball legend Steve Giatzoglou, popularly known as "the lion" for the length and blonde colour of his hair, is another celebrity who underwent hair transplant treatment at DHI International. Steve is widely regarded as one of the most talented players to ever compete in the Greek Basket League. He has had a long and successful career. He has won several championships, cups, and trophies with major clubs such as Olympiakos, AEK, and Aris. In addition, he has played for the Greek national team on multiple occasions. In addition, he has been a professional basketball coach; aside from that, he has served as President of the Union of Greek Basketball Athletes.
For a very long time, Steve was experiencing hair loss, so he decided to get a DHI Hair Transplant. The DHI Medical Team transplanted a total of 3.225 hairs (1.435 Grafts) on Steve.
Steve was pretty happy with the outcome. Speaking about his experience at DHI, Steve said, "I feel like I am 20 years younger. I am happy that I chose to get a hair transplant at DHI. The final result is just amazing, and I am very happy with it."
Before/After Result Image:

Source:https://dhiglobal.com/dhi-news/basketball-legend-steve-giatzoglou-had-a-dhi-hair-transplant/
Andy May
Another very famous celebrity who underwent hair transplant treatment at DHI International Medical Group is Andy May. Andy May is a well-known television and radio broadcaster and a sports reporter. Post DHI hair transplant therapy, he is also an active DHI hair replacement spokesperson.
Andy always had an interest in journalism. He launched his professional career when he was just 11 years old. He began hosting shows on the children's radio station "Takeover Radio."
Of course, journalism is one of those careers where you have to look very presentable at all times. And hair plays a crucial role when it comes to looking your best. Andy was experiencing hair thinning at various regions of his scalp, and that's when he decided to undergo hair transplant treatment.
Reclaim Your Hair, Reignite Your Confidence! Begin your transformation today. Start Your Hair Revival Journey! Need help? Contact Us
He got his hair transplant done at the DHI Athens. His decision to get a hair transplantation treatment turned out to be the most life-changing and beneficial experience for him.
Speaking about his hair transplant treatment at DHI, Andy said, "At the end of the day, image is very important, and with DHI, the results are guaranteed every time. I will come back for a second session soon."
Before/After Result image: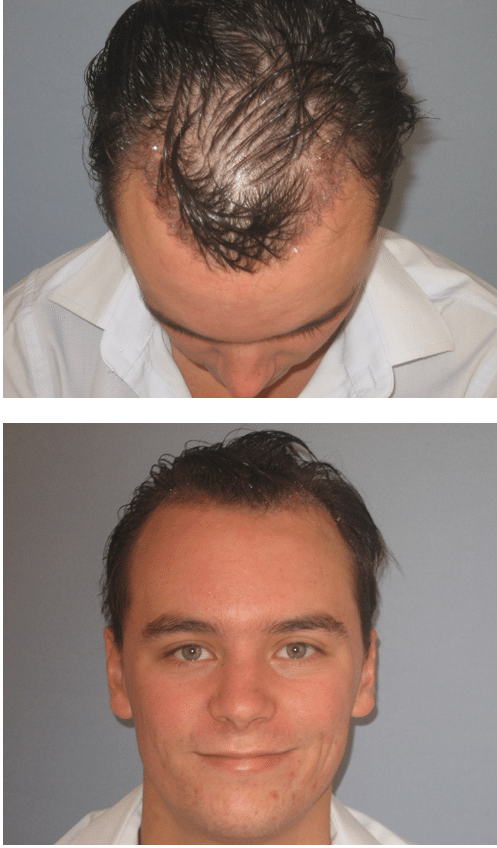 Source: https://hairsite.com/dhi/andy-may-bbc-sports-reporter-hair-transplant/
Wayne Rooney
Another celebrity who underwent hair transplant treatment is former football player Wayne Mark Rooney, popular as Wayne Rooney. Wayne got follicle implantation done on his front hairline.
Wayne is the manager of the Major League Soccer team D.C. United in the United States and is a former professional football player. Throughout his career, he was primarily utilized as a forward but also played in several midfield positions. Rooney holds the record for most goals scored for Manchester United and was England's all-time leader in that category from 2015 through 2023. In addition, he has played for England more than any other outfielder.
The 38-year-old footballer got his hair transplantation treatment done at HS Hair Clinic in London. After his hair transplant, Wanye announced the same to his fans. He said, "Just to confirm to all my followers, I have had a hair transplant. I was going bald at 25. Why not. I'm delighted with the result… I had it done in Harley Street hair clinic London. Thanks to all the staff who looked after me."
Before/After Result image: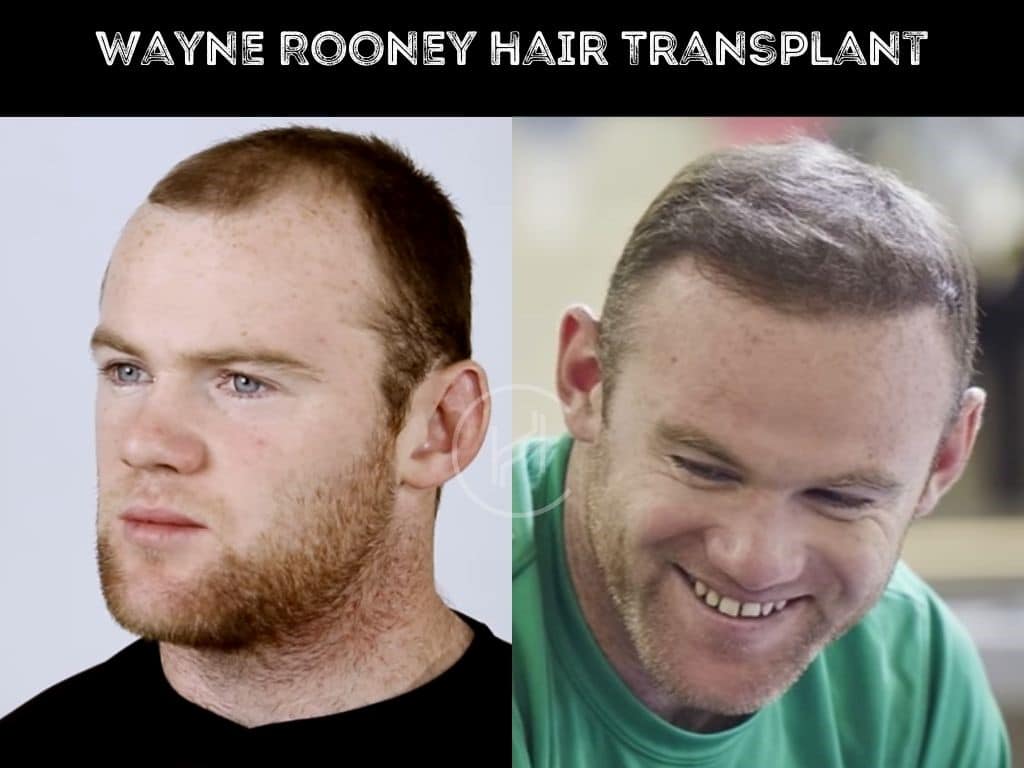 Source: https://www.dentalhairclinicturkey.com/celebrity-hair-transplants/wayne-rooney/
Elton John
Another very popular figure in our list who underwent hair transplant treatment is Elton John. Reginald Kenneth Dwight, better known as Sir Elton Hercules John CH CBE, is a singer, pianist, and composer from the United Kingdom.
His music and showmanship have had a huge influence on popular music, particularly for his work during the 1970s and for his enduring impact on the music industry. He has received praise from music critics as well as musicians from all around the world.
The 'Rocket Man' and 'Tiny Dancer' spoke about his hair transplants in interviews, his autobiography, and his film Tantrums and Tiaras (1997, directed by him). Elton John underwent FUT hair treatment twice in his lifetime.
Before/After Result image: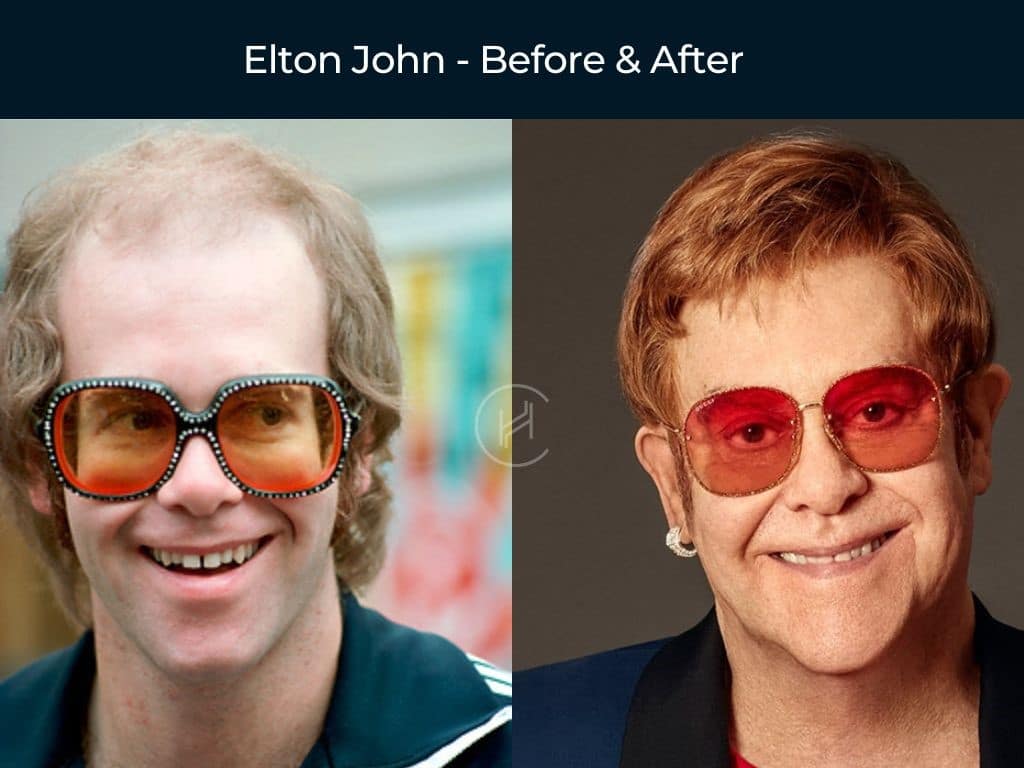 Source: https://www.dentalhairclinicturkey.com/celebrity-hair-transplants/
John Travolta
At number 6, we have John Joseph Travolta, an American actor. John Travolta is a popular figure in the entertainment industry. He is well known for his roles in films, including Carrie (1976), Saturday Night Fever (1977), Grease (1978), and Urban Cowboy (1980). Aside from that, he also starred in the television sitcom Welcome Back, Kotter (1975–1979).
He was pretty popular in the 1970s. After a rough decade in the '80s, his career took off in the '90s with his breakthrough performance in Pulp Fiction (1994). Since then, he's starred in several successful films, including Get Shorty (1995), Broken Arrow (1996), Primary Colours (1998), Bolt (2008), and so on.
John started to lose his hair, after which he decided to get a hair transplant treatment done. John Travolta allegedly had hair transplant surgery in 2016, and the results made him look younger. It's quite likely that Follicular Unit Extraction (FUE) was used for Travolta's hair transplant. Reports suggest that John Travolta was pleased with the results; however, he didn't say anything about his hair transplant surgery.
Before/After Result image: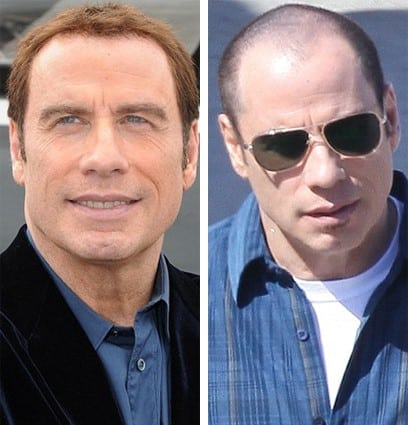 Source: https://www.hairtransplantdubai.com/blog/celebrity-hair-transplant/john-travolta-hair-transplant/
Elon Musk
The wealthiest person and renowned business tycoon, Elon Musk, has also undergone hair transplant surgery. Undoubtedly, Elon is one of the most influential inventors of all time. Musk had a hair thinning issue, due to which he had to opt for hair transplant treatment. He was losing his hair rapidly in the top frontal third of his scalp.
Even though Elon Musk has been mum on the subject of his hair, all signs lead to a transplant. Surgeons with experience, such as Chicago's Dr Yates, believe Musk may have had surgery. Reports suggest that he underwent Follicular Unit Transplantation (FUT) for a hair transplant. FUT is considered one of the most effective hair treatments. In this procedure, a strip of hair is taken from the back of the head, dissected, and then implanted into the balding area.
Before/After Result image: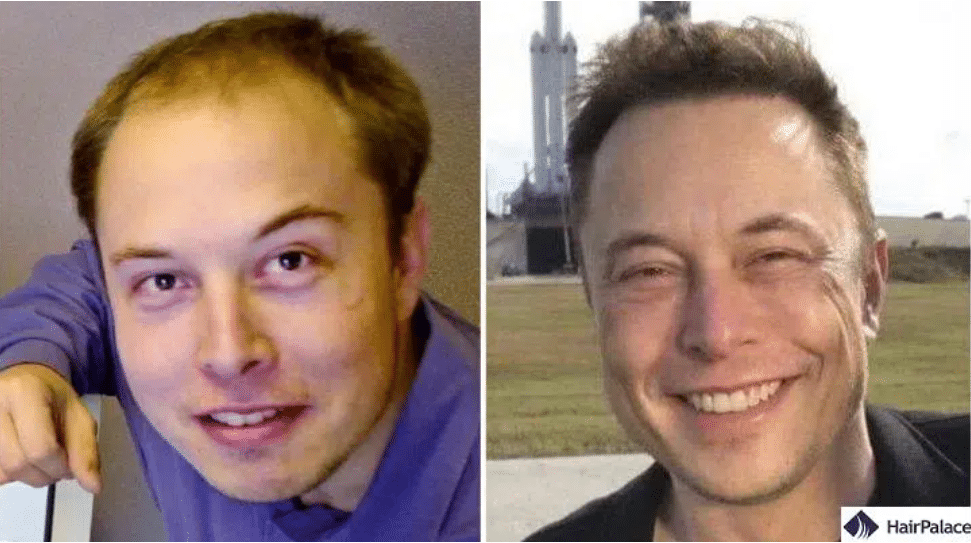 Source:  https://www.hairpalace.co.uk/elon-musk-hair-transplant/
James Nesbitt
William James Nesbitt OBE, popularly known as James Nesbitt, is a well-known and respected actor who hails from Northern Ireland. Nesbitt began his career as an actor in 1987. He appeared in a wide variety of plays, ranging from the musical Up on the Roof to the political thriller Paddywack. James Nesbit is best known for his role as Bofur in The Hobbit trilogy.
James began to lose hair when he reached his 30s. He underwent two procedures for hair transplantation, and as a result, he now has hair that appears completely natural.
Before/After Result image:
Source: https://www.thesun.co.uk/tvandshowbiz/8497218/cold-feet-james-nesbitt-hair-transplant/
Tom Hank
The Forrest Gump Star Tom Hank is yet another celebrity who underwent a hair transplant. The two-time Academy Award winner noticed that he was losing his hair in the shape of an M (or W), and because his profession requires him to always appear good, he decided to undergo therapy for hair transplantation. Tom Hanks put an end to his battle with balding by undergoing a hair restoration procedure at a reputable clinic.
Before/After Result image: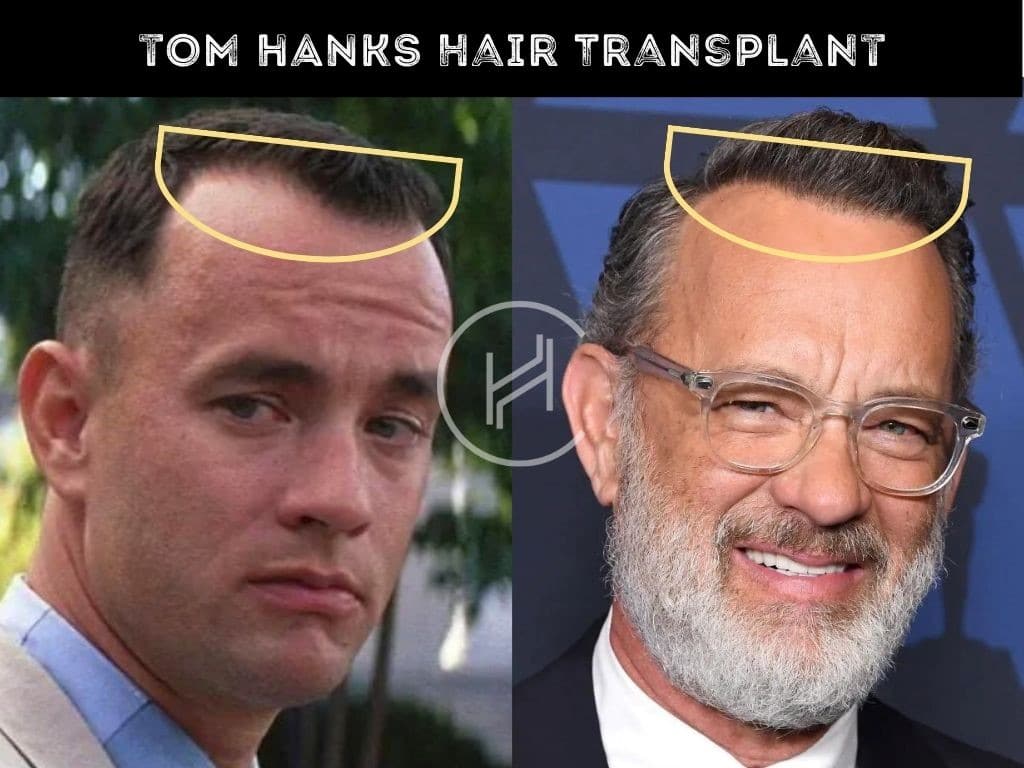 Source: https://www.dentalhairclinicturkey.com/celebrity-hair-transplants/tom-hanks/
Hugh Laurie
The British actor, James Hugh Calum Laurie CBE, famous as Hugh Laurie, has also undergone hair transplant treatment. Besides being an actor, Hugh Laurie is also a renowned singer, author, musician, and comedian.
He is well known for his musical and musical comedy work. The talented artist has been awarded three Golden Globes and has been nominated for a dozen other awards. His work is not limited to just acting. He has also written several books that became best sellers and performed a variety of instruments, including the piano, drums, saxophone, and guitar.
He was experiencing hair loss as well as a receding hairline. That's when he decided to receive a hair transplant. He is happy after his hair transplant surgery. He now has natural-looking hair.
Before/After Result image: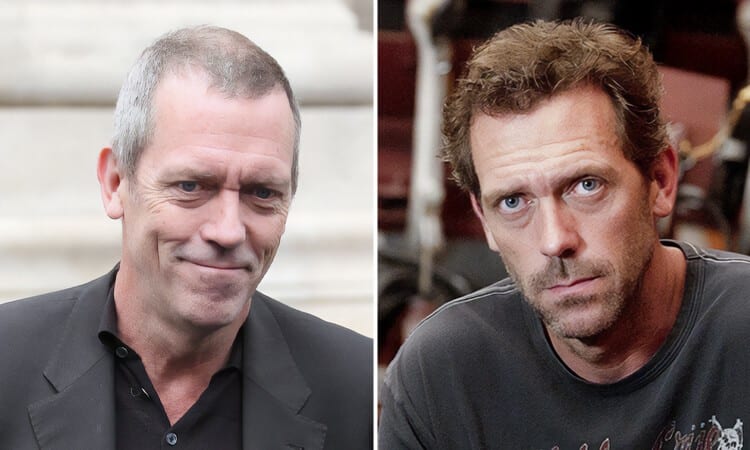 Source: https://www.hairmedico.com/hugh-laurie-hair-transplant/
Nicolas Cage
Famous Hollywood actor Nicolas Kim Coppola, better known by his stage name Nicolas Cage is another well-known Hollywood actor who has had hair transplant surgery. He is one of the most renowned actors in the United States. He is an artist of the highest calibre. He has received many accolades, including an Oscar, a Golden Globe, and a large number of other awards. Cage began experiencing hair thinning and hair loss in recent years, and that's when he decided to seek hair transplantation to restore his youthful appearance.
The Face Off actor is pretty happy with his hair transplant treatment. Undoubtedly, he is one of the most prominent people in the world to have undergone hair transplantation.
Before/After Result image: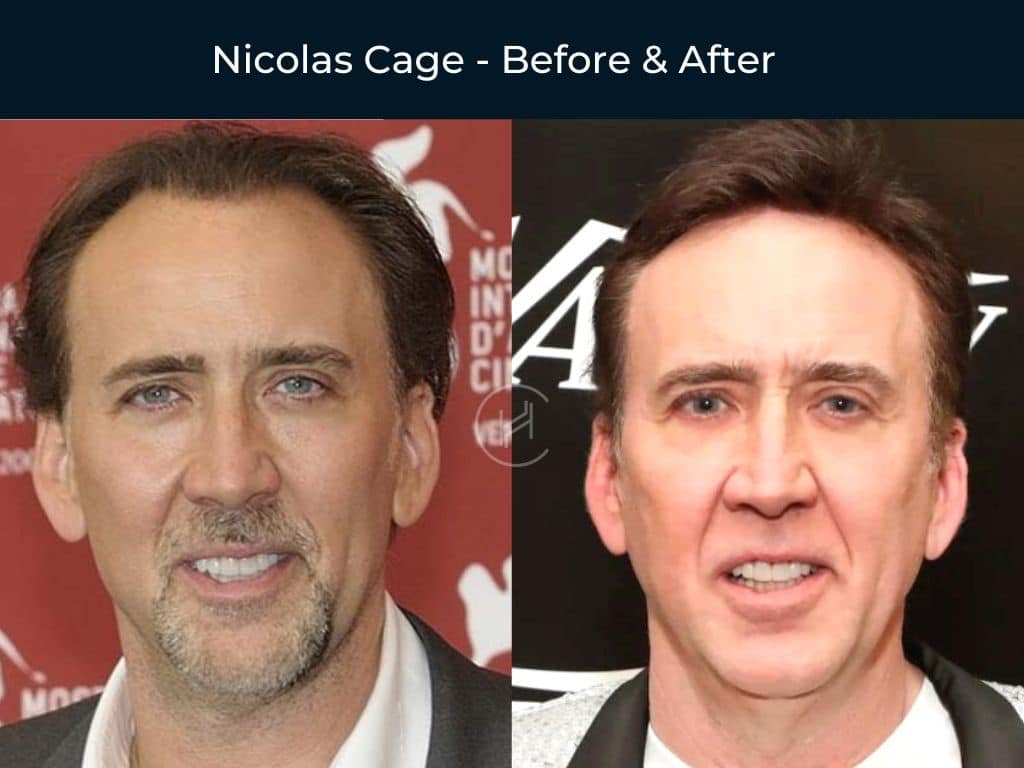 Source: https://www.dentalhairclinicturkey.com/celebrity-hair-transplants/
Wrapping it up…
So, these are the 11 world-famous celebrities who have undergone hair transplanttreatment in the world. All of the celebrities listed above are happy with the outcomes. They all opted for different hair transplant techniques, including FUT, FUE, and DHI.
Some of them specifically chose the world's most advanced Direct Hair Implantation (DHITM) treatment as it is one of the least invasive with no pain, no-scar no-downtime treatments available. Also, the outcome that DHI offers is unrivalled.
If you're also planning to get your hair transplant done, then NOW is the right time for it. And DHI is the best hair transplant clinic in the world. We have a team of expert hair transplant surgeons. Moreover, we have hair transplant clinics both in India and various international locations, including London, Athens, and so on.
All you have to do is to book an appointment with our expert surgeon, and he/she will walk you through the process.
So, don't wait much! Just contact DHI Hair Transplant Clinics across the World!