Hair Transplant in Sydney
The world renowned DHI Direct Hair Implantation Technique is currently not available in Australia.  We advise Hair loss sufferers from Australia to contact us at info@dhiinternational.com, and we will happily provide you DHI hair transplant treatments at our VIP clinics in New Delhi, Bangalore, Hyderabad, Gurgaon, Chandigarh, and Kolkata for up to 50% of the cost in Australia.

Beware of one Dr. Baljinder Randhawa (Baj Randhawa), who is a fraud!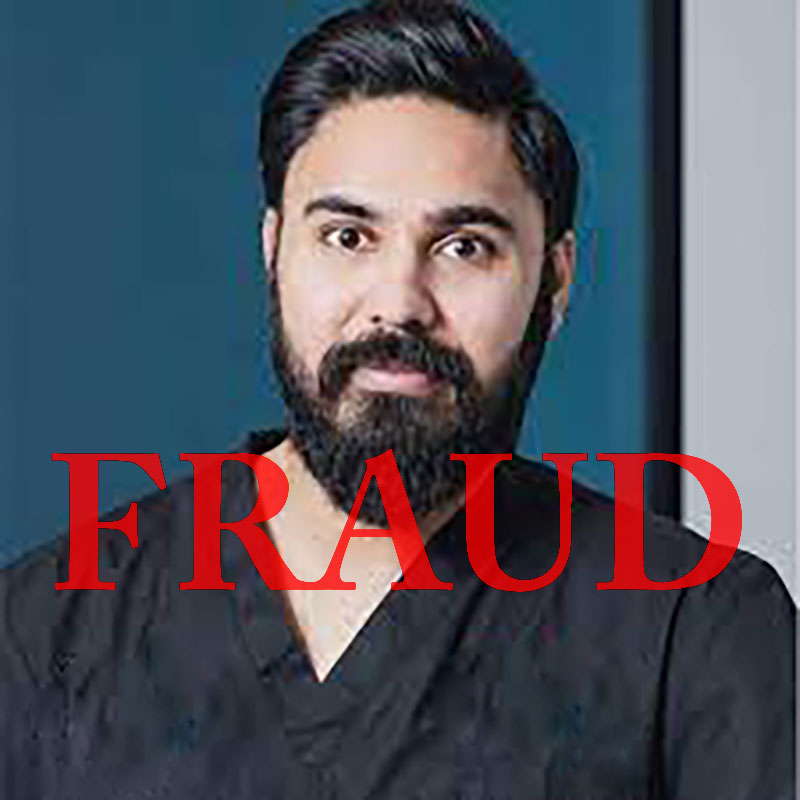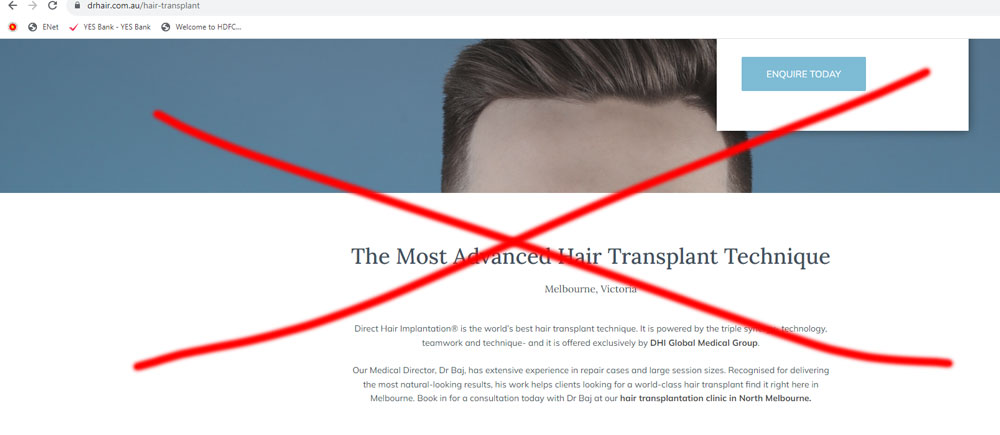 He runs a clinic, "Dr Hair" in Melbourne, misusing the name of DHI and fraudulently and misleading the innocent public by claiming to provide DHI hair transplants using DHI technique. 
Do not deal with this Doctor if you are interested in DHI hair transplant and want a safe and perfect treatment! Please complain about him at the www.ahpra.gov.au. DHI Medical Group is taking strict legal action against him.
Please write to us at info@dhiinternational.com, if you have any queries, feedback, or complaints.
The world-renowned DHI Direct Hair Implantation Technique is currently not available in Australia.
DHI's hair transplant clinic provides a wide range of hair loss treatments including Direct Hair Implantation (DHI), Scalp Micro-pigmentation, Eyebrows Transplant, and Beard Hair Transplant. All procedures are carried out only after a detailed diagnosis of the scalp condition of the patient
DHI is the only hair transplant clinic where hair transplant procedures are performed by highly-trained and certified doctors end-to-end and not by nurses or assistants
Like all other DHI clinics, hair transplant is also done using the DHI technique. DHI is a non-invasive, painless technique with no stitches, no cuts, and no scars. This technique is performed using a patented implanter in a single one-step process which ensures correct angle, direction, and depth at the same time, without prior creation of holes or slits
By adhering to strict protocols, DHI provides 100% natural results to its Patients. DHI provides a guarantee of graft survival ratio of 90% implanted hairs
The cost of the hair transplant can vary according to different grades of baldness but DHI is the most cost-friendly clinic as the graft survival ratio is the highest
37% of our patients are repair cases that were spoiled by other hair transplant procedures and clinics
Ranked No. 1 on Customer Satisfaction by IMRB, DHI is the best hair transplant clinic and gives the capital's best hair Transplant services
To book an appointment for a consultation at DHI Hair transplant clinic, give us a call now!
Patient's Testimonials
DHI is the best clinic in Delhi for Hair Transplant surgery. Right from first interaction to hair transplant and hair growth , my experience was very satisfactory . I just want to appreciate the Delhi clinic of DHI for hair transplant work and behaviour of the entire team. You guys did a fantastic job. I am totally satisfied thank you

Business Man

Very cooperative and professional services,fully satisfied by the transplant and the results thereafter,i will recommend others to go for DHI in case of transplant it may be bit costlier than others but its worth based on safety and results

Business Man

I got a DHI hair transplant. The results are showing very nicely. I am excited…Thank you DHI. Good job!

I have visited other clinics for hair loss consultation… DHI is the best and I recommend everyone to visit if you need best hair loss solution

Session was painless. Friendly as can be. Enjoyed the whole procedure. Price was reasonable too
Ready to regain your hair & confidence