Hair Transplant Cost in Chennai, India
The cost of a hair transplant in Chennai can vary significantly based on several factors, including the time of surgery, the patient's level of baldness, the patient's medical condition, the number of grafts or hair follicles required, the location of the clinic, the reputation of the surgeon, the experience of the surgeon, and so on. Aside from that, any potential complications that may arise after the procedure are also considered when calculating the final hair transplant cost. On average, the price of a hair transplant in Chennai typically starts from INR 1,00,000. But you can always contact DHI Hair Transplant Chennai clinic for better visibility on cost.
Chennai has several clinics that provide hair transplant services. DHI India Hair Transplant Clinic is the most reliable clinic in Chennai. We focus on delivering the highest-quality hair transplantation treatments and other cosmetic surgeries. DHI is a well-known hair transplant clinic in Chennai that provides a range of hair restoration services, including Direct Hair Implantation (DHI), Scalp Micro-pigmentation (SMP), Eyebrows Restoration, Beard Hair Restoration, PRP – Platelet Rich Plasma, GFC – Growth Factor Concentrated, Activa Regenera and Cosmetic Hair Patch or Non-Surgical Hair Replacement hair loss treatments.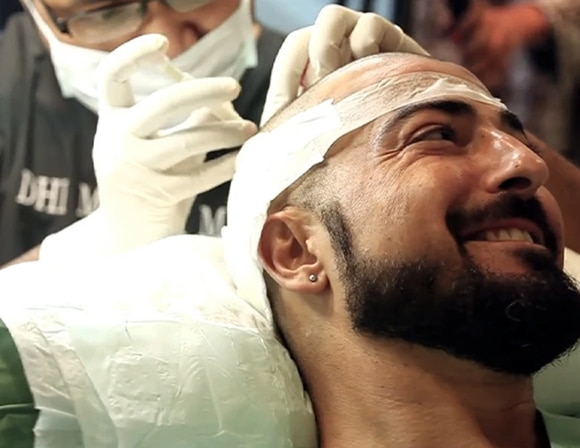 Direct Hair Implantation, or DHI technique, is the world-famous most advanced hair implantation technique. In this method, the surgeon extracts hair follicles from your scalp, typically the back of your head, the follicles are then transplanted into areas of your scalp that are thinning or balding. Under the influence of local anesthesia, hair follicles are extracted from the back of the patient's scalp using a specialized motorized extractor and implanted in the balding region with the help of the implanter. The implanted hair follicles generate new hairs. During the DHI hair transplant procedure, hair transplant surgeons use patented instruments that make the whole process very smooth and surgeons have full control over the angle, direction, and depth of the hair follicles that gives natural results every time. This hair transplant technique takes around 6 to 8 hours to complete in a single session. There is no scar, no stitches, and no pain in the entire process.
Follicular Unit Extraction (FUE) is the oldest method of hair transplant procedure that does create scars. In this method, a hair transplant surgeon removes follicles from your scalp to do the procedure and then creates slits into the recipient area via a blade and inserts the hair follicles by forceps. The affected area will recover with a series of scars but that will be covered by your existing hair over time.
Follicular Unit Transplantation (FUT) is considered one of the most common, oldest, and pain full hair transplant techniques available today. This hair transplantation method involves the removal of a strip of skin from the back side and extracting hair follicles from the back of the patient's scalp and placing individual hair follicles via slit method in the balding area.
Factors Affecting the Hair Transplant Cost in Chennai
Several factors may affect the hair transplant cost in Chennai, including,
The severity of hair loss
The reputation of the clinic
The location of the clinic
The reputation and expertise of the hair transplant surgeons
The size of the session
Amount of hair grafts needed to cover bald spots
Hair loss condition
Donor hair's texture, colour, and other features
The durability of the treatment and, so on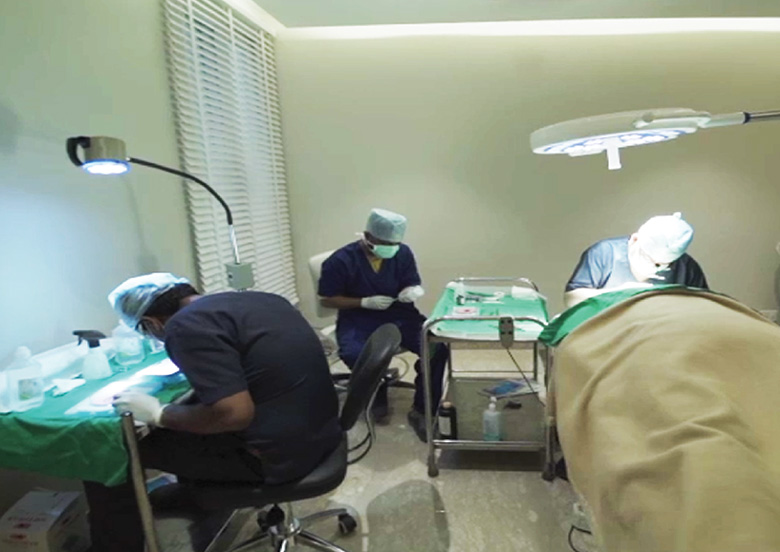 DHI Hair Transplant Cost in Chennai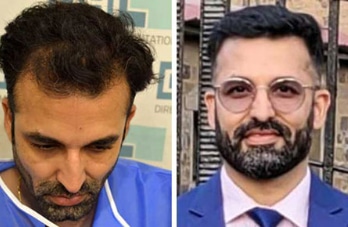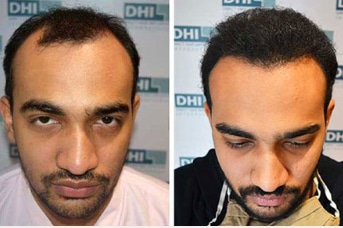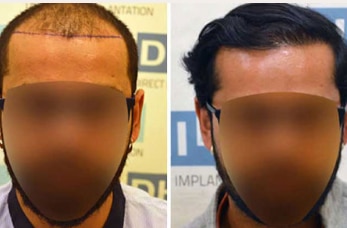 Our Surgeons in Chennai, India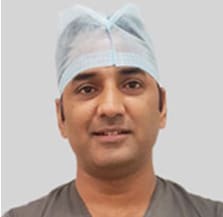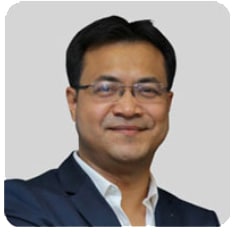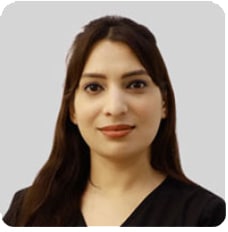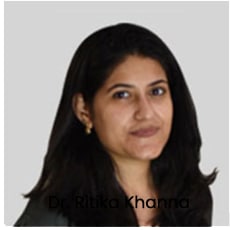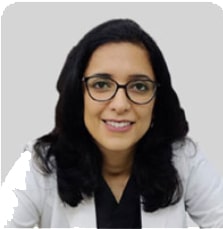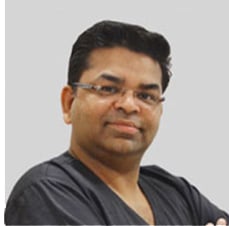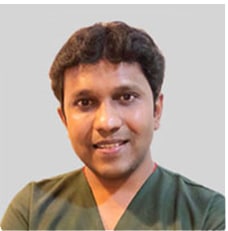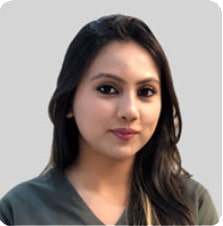 FAQ's
What causes Hair Loss?
The reason for hair loss could be any from poor immunity to a poor lifestyle. Aside from that, several illnesses and medications lead to hair loss. Hair transplantation is one of the best ways to regain fuller and healthier hair. Several hair transplant techniques can help you regain your hair. All you have to do is to choose the right hair transplant facility for your treatment. We at DHI India offer the best and most advanced hair transplant treatments. You can contact our staff for more details.
What is the cost of a Hair Transplant in Bangalore?
The cost of a hair transplant in Bangalore varies based on the facility you choose, the technique you opt for, the reputation of the doctor, the expertise of the doctor, and the time taken for each session. Hair transplantation is one of the most important decisions that you will ever make; hence, it is critical that you don't base your decision on the cost. Make sure to choose a reputable facility. We at DHI India offer the most competitive hair transplant treatments. Feel free to contact us.
Is Hair Transplant Painful?
Well, most hair transplant techniques, including DHI, is the least invasive hair transplant method. You will have no post-procedure discomfort. There are no complications following a DHI procedure, and you can resume your daily activities in a day or two. DHI India is one of the best facilities for DHI in Bangalore. We have a team of surgeons with extensive experience who administer the procedure.
What sets DHI apart as Bangalore's preeminent destination for Hair Transplants?
DHI is considered to be one of the top hair transplant clinics in Bangalore because it can effectively offer results that seem 100% natural and last a lifetime. We employ a team of top DHI surgeons who are committed to providing the best possible results for our patients who come to us for the treatment of hair loss. In addition, all of our methods, technology, and facilities are state-of-the-art. We give serious thought to why you're getting a hair transplant in the first place. We at DHI apply our expertise in an ongoing quest to broaden the therapeutic window and better suit your needs. Just book a consultation with one of our experts NOW if you're curious about our hair transplant process. Our hair transplant specialists will transform not only your looks but also your life in no time! Contact us for more details!
Why Choose DHI Hair Loss Treatments?
Direct Hair Implantation (DHITM) is one of the most advanced hair transplant techniques with numerous advantages and no side effects. It is known for delivering completely natural results. The procedure entails extracting hair follicles and implanting them directly into the thinning area that requires hair coverage. This technique ensures that each hair follicle is carefully positioned in a specific direction, angle, and depth, resulting in a natural-looking outcome. It would be best to opt for the DHI hair transplant technique for several reasons. Here are some of them:
Unlike other techniques, DHI offers natural results, ensuring the transplanted hair seamlessly blends with the existing hair. This technique doesn't include incision, stitching, or any cut, making it the best hair transplant treatment. People who have undergone DHI hair transplant treatment have no scarring. The procedure is performed under local anaesthesia, ensuring a pain-free experience for the patient. Furthermore, DHI boasts the highest graft survival rate, exceeding 90%—moreover, the recovery time after DHI is relatively shorter than the other hair transplant surgeries.
Celebrities, business tycoons, and the common man have acknowledged DHITM – Direct hair implantation hair transplant as the safest and most effective hair restoration technique. Contact our DHI India Chennai clinic if you want a hair transplant. They will guide you through the process and help you make the best decision.
Why DHI India?
follicles from one area of your body to another. The highly advanced procedure ensures 100% natural results for hair transplants. At DHI India, our surgeons prioritize carefully extracting hair follicles from the donor area and their precise transplantation to the areas affected by hair loss. We offer personalized solutions that effectively address your unique hair loss concerns. Our surgeons carefully select the donor area. They carefully select the region with permanent hair roots during the procedure to ensure long-lasting results.
Furthermore, at DHI, we adhere to a comprehensive procedure. We cannot draw conclusions solely based on the appearance of your thinning region. We follow a systematic approach to thoroughly examine everything, starting from your vital signs to your donor area, before proceeding. In addition, we consider any pre-existing medical conditions you may have before recommending any hair transplant treatment. Our team consists of highly skilled hair transplant surgeons who possess extensive experience and the necessary expertise in their field. They thoroughly evaluate the scalp condition before performing or recommending any surgical procedure. Our experienced medical professionals comprehensively analyze the complete context of your hair loss before recommending a treatment plan.
We perform all surgeries in our state-of-the-art facility to help you achieve a natural hair appearance without pain or discomfort. At DHI, we offer the most affordable hair transplant treatments.
So, if you want the best hair transplant outcome, contact us for more details!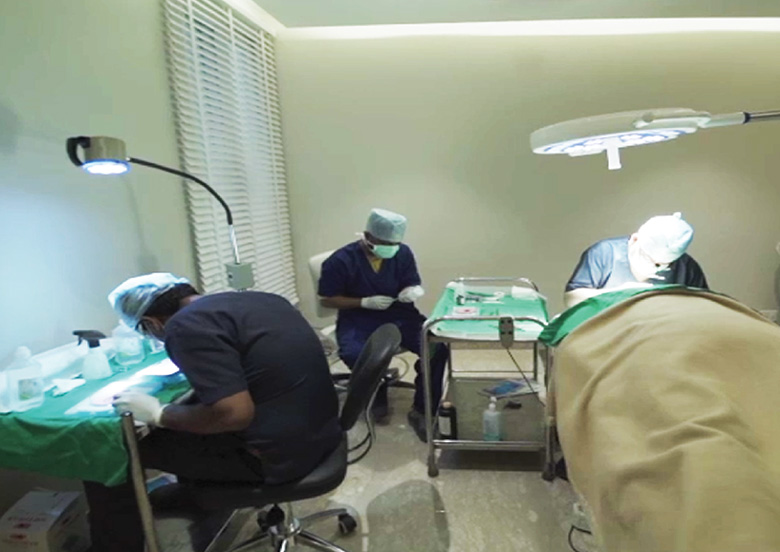 Restoring Hair Since 1970