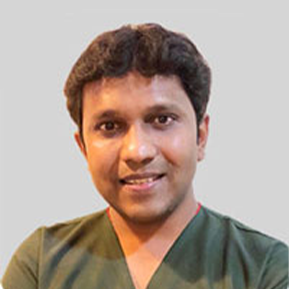 Work Profile:
Dermatologist, Hair Transplant Surgeon, Trichologist, Dermatosurgeon

18 Years Experience.
Dr. Sunil Kumar
MBBS, MD – Dermatology, Venerology & Leprosy
Dr. Sunil is a well-experienced hair transplant surgeon in DHI with 18 years of rich experience. He performs hair transplant and hair restoration procedures at various DHI clinics across India. Dr. Sunil has done an MBBS from Kempegauda Institute of Medical Science, Bangalore, and an MD in Dermatology from SCB Medical College, Cuttack. He was awarded the prestigious Robin Pal gold medal during his Post graduation.
He has performed thousands of hair transplant and hair restoration procedures over the years. Apart from performing scalp hair transplant procedures, he regularly does hairline reconstruction, crown area, beard, and mustache reconstruction on post-burn injured skin, eyebrow hair transplants as well as chest hair transplants. He routinely does procedures like PRP, and MPG apart from the transplants. He has also done transplants in almost all ethnic groups of people which makes him do the procedures in all types of patients with great ease and with satisfactory results.
Dr. Sunil has published his clinical study articles in indexed international journals. He has been involved in Clinical trials on the Effects of Micro-needling procedure in Androgenetic Alopecia and the Role of Antiandrogens in Female pattern hairless.