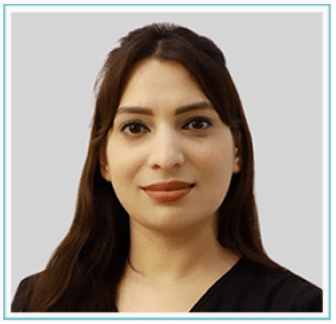 Work Profile:
 Surgical Hair Restoration

procedure (DHI).

 Master Trainer with DHI India and DHI

International Training Academy.
Dr. Nishat Fatima Ali Khan
Medical Director, DHI International
Dr Nishat is a highly experienced hair transplant surgeon with 8 years of experience and about 1,000 hair transplant procedures to her credit. Since 2013 she has been working at DHI clinic in Bangalore.
She is also certified by the American Board of Hair Restoration Surgeons as an Affiliate Member and currently serves as a Diplomate and Credential Committee Member of ABHRS. "The American Board of Hair Restoration Surgery" is internationally recognised as the only board certification focusing on hair restoration surgery for physicians worldwide.
She has performed numerous complex hair transplant cases including a single session of 13,136 follicles over two days, eyebrow reconstruction of chemical attack victims, beard reconstruction and female hairline designs. Dr Nishat is a regular with ISHRS and World FUE Conferences.
Till 2020, she has trained 11 physicians from different countries to become successful hair transplant surgeons. As a trainer and Medical Director, she actively supervises the quality of work done by various hair transplant surgeons around the world.
She has also served as Member Secretary of Hairline Research Ethics Committee. She has performed in house clinic trials on PRP and Androgenetic Alopecia, PRP and Alopecia Areata, Relationship between Vitamin D Deficiency and Androgenetic Alopecia, Relationship between PCOD, Hypothyroidism and Androgenetic Alopecia in females.
Her strength is her vast experience in assessing and treating a wide variety of skin conditions and diseases, scalp and hair disorders and extensive knowledge on the latest and best practices in hair and skin care.
Dr Nishat did her MBBS from M. V. J, Medical College & Research Hospital, Bangalore in 2009. She is a registered member of Karnataka Medical Council.