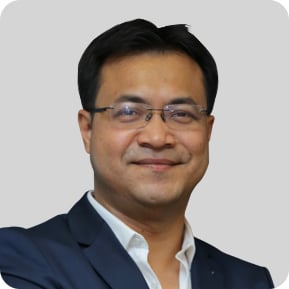 Work Profile:
 Surgical Hair Restoration

procedure (DHI).

 Master Trainer with DHI India and DHI

International Training Academy.
Dr. Kuntal Deb Barma, MD Dermatologist, FAAD
Medical Director, DHI Group
Dr Kuntal is a seasoned hair transplant surgeon with 9 years of experience having performed 961 hair transplant procedures to his credit. Since 2012, Dr Kuntal has been performing hair transplant from DHI clinic in Kolkata, India.
Dr Kuntal has performed all types of cases on men and women including scalp, beard, moustache, eyebrows and body hair. His patients include who's who of the world and his case studies on beard restoration are amongst the best in the world.
Till 2020, he has trained 26 physicians from multiple countries to become successful hair transplant surgeons.
He is a Fellow of the American Association of Dermatology (FAAD). He is also a member of American Academy of Dermatology, International Society of Cosmetic Dermatology, IADVL, Association of Hair Restoration Surgeons (India), and Association of Cutaneous Surgeons of India.
He presently presides as the Convener of the Hair Transplant & Trichology wing of the Indian Association of Dermatologist, Venereologists, and Leprologists ("IADVL"). He is also coordinating multicentric studies on numerous topics including "Tofacitinib for Scarring & Non-Scarring Alopecia", "Efficacy & side effects of Finasteride & Dutasteride", "Standardized protocols & photo guidelines for Hair Transplant", "Tranexamic Acid in Hair Transplant", "Minoxidil efficacy in Sulfonyl Transferase deficiency", and "Oral Minoxidil" trials. Dr Kuntal is a regular attendee at ISHRS and IMCAS conferences.
Dr Kuntal is a regular speaker at various medical conferences and has presented on topics like "Facial Hair Transplant, Hairline Designing", "Hairline designing", "Latest Innovations in Hair Transplant", "Beard Transplant", "FUT v FUE, Scalp Micro-pigmentation, Low Level Laser Therapy", "Hairline, Hair Patch, Cyclical Nutritional Therapy" "Treatment modalities in Alopecia Areata" and "Eyebrow Transplant".
Dr Kuntal is also an Aesthetic Dermatologist and serves as the Medical Director of Asian Roots Skin Clinic, Kolkata, India which offers variety of lasers, injectables and cosmetic procedures. Dr Kuntal completed his MBBS from Medical College, Thiruvananthapuram &  M.D. (Dermatology) from R.G. Kar Medical College, Kolkata.