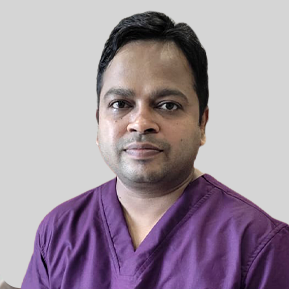 Work Profile:
Hair Transplant Surgeon, Plastic Surgeon, Trichologist, Aesthetic Dermatologist, Cosmetologist

15 Years of Experience
Dr. Dinesh Bhoye
MBBS, MS, MCH – Plastic and Reconstructive Surgery
Dr. Dinesh Bhoye is a Plastic Surgeon, Cosmetologist, and Hair Transplant Surgeon in DHI and has an experience of 15 years of in these fields. He performs DHI hair transplant and hair restoration procedures at various clinics across India.
He completed his MBBS from L. T. M. M .C. SION Medical college in 2007, did his M. S in Surgery from V. M . Government medical college, Solapur, and Super specialty (Mch) in Plastic Surgery from N. H. L .medical college, Ahmedabad.
He has performed thousands of hair transplant and hair restoration procedures over the years. As a reconstructive plastic surgeon, he is a super-specialist in handling hair transplant cases of all kinds of complexities like different ethnicities, hairline reconstruction, crown area, beard, eyebrow, and chest areas.
He is also highly skilled in cosmetic procedures such as anti-acne treatments, anti-pigmentation therapies and scar reduction treatments, aesthetic therapies like botox, fillers, skin rejuvenation treatments, hair growth treatments like Mesotherapy, PRP and Hair Transplants, Laser procedures for skin rejuvenation, hair reduction and scar reductions.
He is registered with Maharashtra Medical Council. He is a regular attendee of major trichology conferences, and workshops held across the globe.