The world-renowned DHI Direct Hair Implantation Technique is currently not available in Australia.  We advise Hair loss sufferers from Australia to contact us at info@dhiinternational.com, and we will happily provide you DHI hair transplant treatments at our VIP clinics in New Delhi, Bangalore, Hyderabad, Gurgaon, Chandigarh, and Kolkata for up to 50% of the cost in Australia.

Beware of one Dr. Baljinder Randhawa (Baj Randhawa), who is a fraud!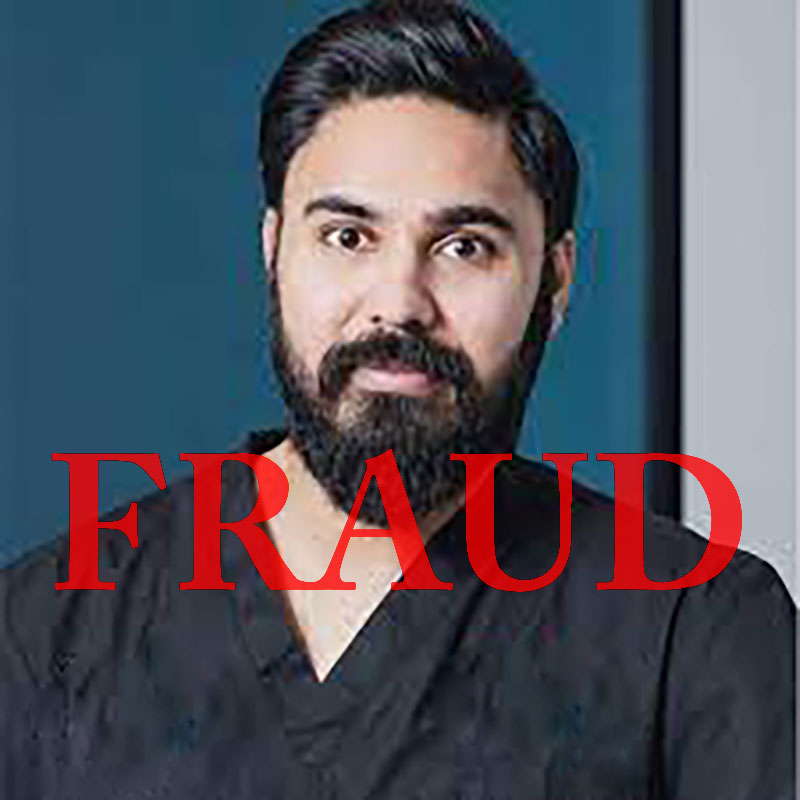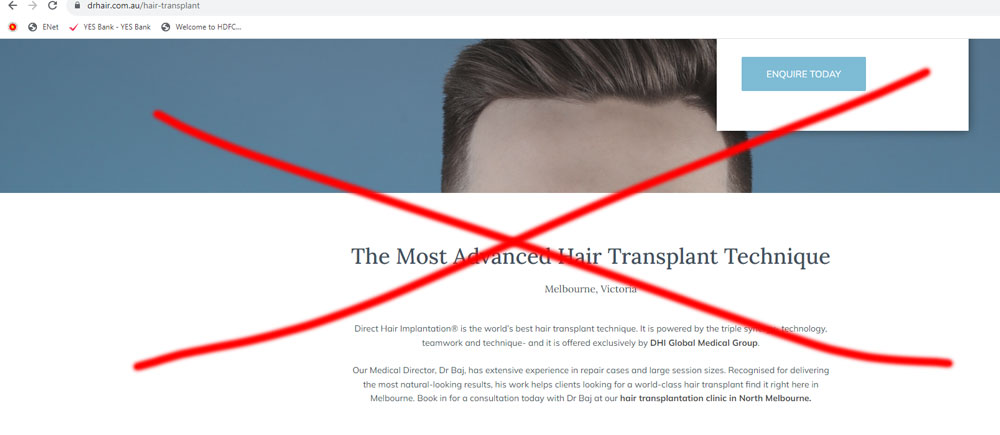 He runs a clinic, "Dr Hair" in Melbourne, misusing the name of DHI and fraudulently misleading innocent public by claiming to provide DHI hair transplants using DHI technique. 
Do not deal with this Doctor if you are interested in DHI hair transplant and want a safe and perfect treatment! Please complain about him at the www.ahpra.gov.au. DHI Medical Group is taking strict legal action against him.
Please write to us at info@dhiinternational.com, if you have any queries, feedback, or complaints.

It came to our notice that certain hair transplant clinics in Australia, particularly Gro clinics, www.groclinics.com.au, are fraudulently misrepresenting to hair loss patients that they provide DHI technique hair transplants and treatments.  They misuse the DHI brand name and images from the DHI system on their website.
DHI Medical Group has perfected the art of hair restoration with 5 decades of research and innovation, which is captured in its proprietary protocols.  The DHI technique is available only from 75 authorised clinics worldwide, using DHI training, protocols, and instruments.
The Public at large is cautioned to deal with www.Groclinics.com.au at their own risk.  They do not have access to DHI protocols, instruments, and training.  Their hair transplant procedures in no way reflect the quality of DHI hair transplant procedures. DHI is taking appropriate legal action in this matter.
For information on authorised clinics please write to us at info@dhiinternational.com.
Each hair transplant surgeon at DHI Medical Group gets extensive training, support, and continuous supervision provided by the DHI International Training Academy. This Academy provides medical doctors the only training on patients in the world, certifying surgeons in the art of delicate manual (by hand) graft extraction, specifically made American-made ultra-sharp fine titanium micro punches.
When extracting from the donor area our instruments leave virtually no visual scarring, minimal trauma, and extremely fast healing, generally less than 3 days. Our surgeons are trained to perform an even donor extraction, allowing our patients to continue to have short haircuts. This technique is recognised as the gold standard in graft extraction and is taught and performed by less than 3% of doctors in the whole world.
Normally, a surgeon takes 8 weeks to learn and master this difficult extraction method and it requires virtually uninterrupted continued practice, making this technique nearly impossible to train for virtually all other companies, without a dedicated training academy. This one part of training alone means that anyone else claiming to perform the DHI Hair Transplant method, is a total fabrication.
Rebuilding the perfect hairline, or the art of implantation, is the other skill a master surgeon must acquire; this cannot be taught in days, weeks, months, or in some cases even years, without a specialised training Academy. DHI International's Training Academy's experienced team of Medical Dermatologists and Trichologists have a combined experience exceeding 100+ years, in a technique developed only 11 years ago. These true, Specialists and Master surgeons spend months, one on-one, with a trainee, providing years of knowledge in a live patient training environment, and only once they exceed the tough Parameters set in the course will they be certified. After certification, there is a need for ongoing constant mentoring, and skill monitoring to ensure that the surgeon continues to develop, and their progress accelerates to a master surgeon level.
The nurses and teams that support the surgeon in performing DHI Hair Transplant Australia are trained in the same environment, with experts monitoring their every step, making sure that we protect and show the utmost respect to every graft that is extracted from a patient. Our preservation techniques are world-class, with the highest-rated survivability in the industry. The Bio tissue preservation solutions employed are identical to that used in organ transplants, to reduce stress, feed macronutrients, and increase survival rates. At DHI hair transplant clinics in Australia, we believe that hair is an extremely complex protein, housed and supported by the human body's largest organ, the skin. No shortcuts can ever be taken, at any point, if you want a guarantee of success.
Consultations at DHI Clinics Australia are performed by a true hair specialist, trained in the science of Trichology and with a level of understanding and empathy, incredibly unique to the medical profession. You are not sold but truly advised about your options, with the number one focus initially on the prevention of further hair loss. DHI Australia has Trained Consultants who will ask many questions, and examine the scalp, ensuring a correct diagnosis. You will not be asked to sign up for a monthly subscription or programme of drugs and solutions, which costs thousands, but shown how easy it is to prevent treatments available from your local chemist, and secondly, they will show you how to correct your concerned areas and provide all the information required to make the choice of whether a transplant is suitable for your needs or not. At DHI Australia, we also treat hair and scalp disorders, with a holistic approach to treatment. If your hair loss is other than genetic our expert team will request all the essential testing to obtain a correct diagnosis.
Most of our competitors have no understanding of what it takes to be able to perform a Natural undetectable DHI hair transplant in Australia, the time, skill, and passion. This is what sets DHI Australia apart from the rest of the world. 50 years of development, Innovation, skill, and the strictest protocols in the industry. This information, training and experience are not available to anyone other than a Certified DHI Clinic and their team, making it the most recognisable brand in the industry. This makes us a target and DHI is misappropriated by many less scrupulous companies from Oceania, Asia, Middle East, and Americas. The power and marketing benefits of trying to associate themselves to a global leader are often too tempting for these smaller independents. And for the consumer, it is only apparent after asking the appropriate questions.
Companies like Gro Clinics are unethical and do not follow any medical guidelines and laws of Australia.  Even though they do not have any access to DHI protocols, training systems, instruments, and intellectual properties, they misguide the customers into believing they have anything to do with DHI or come anywhere close to DHI systems.
Gro Clinics technique is more traumatic motorised extraction. This is done typically when the doctors are unable to perform extraction manually, as opposed to DHI's manual extraction which is regarded as the gold standard and most artisan technique in hair restoration.
There are many more DHI Australia points of difference, like auditing every one of our surgeons' transplants, to ensure accountability, continue improvement and the world class instruments designed and only supplied to DHI, but also the collaboration with universities to help DHI to even better perfect the transplant technique.
We encourage customers to report these instances of misuse of our brand by Gro Clinics to us and to appropriate authorities protecting Consumer law in Australia.